Efficacy of Contrast-Enhanced Ultrasound in Guiding Radiofrequency Ablation of Hepatocellular Carcinoma
Abstract
Purpose
The objective of this retrospective study is to evaluate the efficacy of contrast-enhanced ultrasound (CEUS) in guiding treatment of hepatocellular carcinomas (HCCs) and hepatic metastases with percutaneous radiofrequency ablation (RFA).
Material and methods
From January 2010 to December 2015, a single-center retrospective review was conducted of all the RFAs performed at our institution. 295 RFA procedures were performed, 59 were CEUS-guided with a total of 49 patients (39 Males, average age 62.5 years (range: 32-87)) presenting with an average of 1.3 lesions. Pre-operative baseline imaging was performed with computed tomography (CT) or magnetic resonance imaging (MRI). Intra-operatively, CEUS images were compared to US images performed at the same RFA session to determine the ability of CEUS to increase the visualization of lesions. The efficacy of the treatment was evaluated with follow-up imaging for presence of residual or recurrent disease.
Results
Following administration of contrast agent, CEUS allowed for increased visualization in 54 (91.5%) of cases as indicated by increased flow signals or newly appeared signals. This enabled targeted treatment of the lesion, previously poorly appreciated on pre-operative imaging. With an average of 207 days of follow-up, 12 (20.3%) of the targeted lesions were incompletely treated or missed despite improved visualization as evidenced by reoccurrence on follow-up imaging. These lesions required re-intervention, which was subsequently successful in 100% of cases.
Conclusion
CEUS increases visualization and provides better characterization of hypervascular hepatic lesions not well appreciated on conventional US. Hence, this retrospective study suggests that contrast-enhanced ultrasound can be a promising adjunct to conventional image guided hepatic RFAs
* Indicates faculty mentor.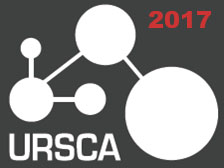 Section
Poster Abstracts - Technology, Health and Society, and Teaching and Learning
License
Authors retain any and all existing copyright to works contributed to these proceedings.
By submitting work to the URSCA Proceedings, contributors grant non-exclusive rights to MacEwan University and MacEwan University Library to make items accessible online and take any necessary steps to preserve them.