Inter-institutional collaborative chemistry assignments
Abstract
To help students learn the disciplinary language of chemistry, disciplinary communication was set up between chemistry learners who are in their first organic chemistry course at the University of Illinois Springfield and Mount Royal University. Students were assigned a series of organic compounds or reactions that they must describe using IUPAC nomenclature and correct chemical terminology to their partner at the other campus. The partners would then interpret the description provided to them and sketch the appropriate chemical representation. The students are then encouraged to discuss if the drawing is correct and if not, where the misunderstandings lie. We will discuss how instructional technologies were used to foster a valuable experience between learners from different campuses. An overview will be provided that shows different types of problems students worked on with their partners and model how they exchanged information. Successes and difficulties in integrating the interinstitutional collaborative assignments will be presented as well as how some difficulties have been addressed and future development needs.
* Indicates faculty mentor.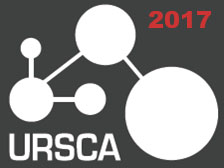 Section
Poster Abstracts - Technology, Health and Society, and Teaching and Learning
License
Authors retain any and all existing copyright to works contributed to these proceedings.
By submitting work to the URSCA Proceedings, contributors grant non-exclusive rights to MacEwan University and MacEwan University Library to make items accessible online and take any necessary steps to preserve them.