Survival of the Fittest
Elucidating Fitness of Escherichia coli strains Lacking Pseudouridine Synthases
Abstract
The ribosome is a fundamental component of gene expression, producing proteins from corresponding mRNA sequences. The ribosome is comprised largely of ribosomal RNA (rRNA), which is known to contain various nucleotide modifications. The most abundant of these modifications is pseudouridine, the 5-ribosyl isomer of uridine, whose isomerization is catalyzed by pseudouridine synthases. The peptidyltransferase center (PTC) of the E. coli ribosome contains 6 pseudouridines generated by four pseudouridine synthases.
The objective of this study is to examine the contributions of ribosomal pseudouridine synthases to bacterial fitness by characterizing growth phenotypes of knockout strains. Each of the four pseudouridine synthases acting on the ribosomal PTC were sequentially deleted from wild type E. coli, and the effects on cellular fitness were assessed using competition assays and growth curves in both minimal medium and in the presence of antibiotic. The competition assays revealed that each knockout strain (single, double, triple, and quadruple) exhibited a severely reduced fitness, as they were quickly outcompeted by the wildtype strain. The growth curves showed that certain pseudouridine synthases became more important under different stress conditions. In minimal media, it was found that RluB and RluF are more important than the alternative pseudouridine synthases in counteracting the effects of nutrient limitation, both with and without antibiotic present. Additionally, deleting RluE seemed to rescue the growth phenotype in the multiple knockouts. Together, these findings suggest that pseudouridines play different roles in ribosomal activity within the cell depending on the growth conditions, and provide selective advantages for E. coli when competing for limited resources.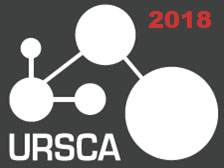 Section
Presentation Abstracts
License
Authors retain any and all existing copyright to works contributed to these proceedings.
By submitting work to the URSCA Proceedings, contributors grant non-exclusive rights to MacEwan University and MacEwan University Library to make items accessible online and take any necessary steps to preserve them.