Regulating gene expression through targeted RNA modification
Abstract
Pseudouridylation refers to the isomerization of uridine to pseudouridine in RNA and is catalyzed by enzymes known as pseudouridine synthases. In eukaryotes, pseudouridylation of rRNA is primarily directed by a complex of proteins and a box H/ACA guide RNA. The guide RNA specifies a target by forming transient base pair interactions on either side of the target uridine, although other standalone pseudouridine synthases may employ different targeting mechanisms.
With this project, we aim to modify naturally occurring guide RNAs to allow for specific targeting in a location different from the original. Pseudouridylation of a premature stop codon in mRNA results in translational readthrough and production of a functional protein. Here, we utilize the CUP1 gene from baker's yeast as a model gene to be targeted by pseudouridylation that enables survival in the presence of high copper concentrations.
First, we have generated and purified two guide RNAs never previously worked with in our lab to test their effectiveness at targeting a specific uridine. Also, the proteins associating with these H/ACA guide RNAs have been expressed and purified for biochemical investigations. Second, a premature stop codon was introduced at the ninth codon of the CUP1 gene (Q9UAA). As a control to mimic the presence of a pseudouridylated stop codon, we have generated the mutants cup1p(Q9S) and cup1p(Q9T) mimicking readthrough of the premature stop codon and tested their ability to chelate copper in vivo. Interestingly, these experiments revealed that not all premature stop codons can be rescued by pseudouridylation. Current work focuses on the insertion of test sequences harboring premature termination codons upstream of CUP1. These test sequences are predicted to be targeted by known pseudouridine synthases.
Ultimately, this experimental system will identify which sequences harboring premature stop codons can be targeted by pseudouridylation to re-activate gene expression. This new system to regulate gene expression has applications in bioengineering and possibly the treatment of inherited diseases resulting from mutations that cause premature stop codons.
*Indicates presenter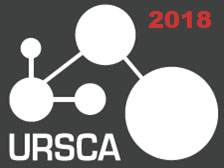 License
Authors retain any and all existing copyright to works contributed to these proceedings.
By submitting work to the URSCA Proceedings, contributors grant non-exclusive rights to MacEwan University and MacEwan University Library to make items accessible online and take any necessary steps to preserve them.