Identifying Biomarkers for Assessing an Athlete's Readiness to Return to Play Following a Sport-Related Concussion Using 1H NMR Spectroscopy
Abstract
Background: Sport-related concussion (SRC) is a very common form of mild traumatic brain injury (mTBI). Presently, there is no official assessment used to objectively diagnose SRC and to prognosticate recovery of patients. Several tools have been developed to aid in these aspects, however, due to issues such as restricted specificity, cost and validity, the use of these assessment tools is limited and remains highly subjective. Metabolomics provides a quantitative measurement of the metabolites within a living organism and can be used to measure the metabolic response of an organism to different stimuli. Thus, urinary metabolites that have been altered as a result of an SRC provide a potential avenue for biomarker discovery as it relates to diagnosis and recovery.
Hypothesis: The 1H NMR spectroscopy detected urinary metabolome of athletes will reflect changes in the brain caused by both SRC and the recovery process.
Methods: Samples were obtained from athletes at the beginning of the season, within 72 hours after injury and following medical clearance to return to play. Urine samples were prepared with NMR buffer, centrifuged, the supernatant was pipetted into 5mm NMR tubes. These samples were then analyzed using a 700 MHz Bruker Avance III HD NMR spectrometer. Multivariate statistical analyses were applied to spectral data obtained to determine if there was a significant distinction between baseline, post-SRC and asymptomatic samples. Permutation and cross-validation testing were applied to all Partial Least Squares Discriminant Analysis (PLS-DA) tests for each comparison to ensure the validity of the results. Metabolites that contributed to the observed differences between the metabolomic profiles were identified using Chemometric software.
Results: Statistical data analyses revealed several metabolites that were significantly altered between groups. The identified metabolites were then correlated to biochemical pathways using pathway topology analysis.
Conclusion: This work shows that 1H-NMR based metabolomics is a powerful platform for conducting sport-related concussion analysis. Understanding the lasting metabolic changes that persist even after an athlete has returned to play is key for monitoring individuals following SRC and ultimately preventing cumulative and permanent brain damage.
*Indicates presenter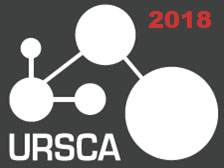 License
Authors retain any and all existing copyright to works contributed to these proceedings.
By submitting work to the URSCA Proceedings, contributors grant non-exclusive rights to MacEwan University and MacEwan University Library to make items accessible online and take any necessary steps to preserve them.