Investigating the Interaction Between DDX17 and The Rift Valley Fever Virus 3' Terminal Region Using a Nano-scale Structural Approach
Abstract
Rift Valley Fever (RVF) is a currently an untreatable disease that affects both humans and livestock in sub-Saharan Africa. This disease is viral in origin and the Rift Valley Fever virus (RVFV) is transmitted primarily through mosquito vectors Aedes and Culex. RVFV is a part of the Bunyaviridae family, and the genus Phlebovirus. Recent studies have indicated that RVFV interacts with the human DEAD-box RNA helicase protein DDX17. There is minimal research on the specific interactions between this host protein and the viral RNA, although DDX17 has been shown to inhibit RVFV replication. The DDX17 helicase performs a critical role in viral replication, and we are trying to dissect the specific role by which it inhibits RVFV replication. In addition, we are also studying two regions of the RVFV which forms a stem-loop structure that is proposed to interact with DDX17. Using selective 2'-hydroxy acylation analyzed by primer extension (SHAPE) and small-angle x-ray scattering (SAXS) techniques we aim to gain both secondary and 3-dimensional structural information. To identify specific domains of DDX17 that interact with both viral constructs, we require a highly pure preparation of full-length DDX17 and its truncated domains. Thus, the primary objective of my project is to establish protocols for large scale preparation of full-length and individual domains of DDX17 to identify a specific domain of DDX17 that interacts with the RVFV RNA using Electrophoretic mobility shift assays (EMSA) and study interactions using microscale thermophoresis (MST).
*Indicates presenter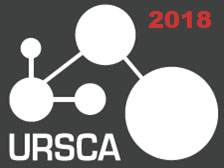 Section
Presentation Abstracts
License
Authors retain any and all existing copyright to works contributed to these proceedings.
By submitting work to the URSCA Proceedings, contributors grant non-exclusive rights to MacEwan University and MacEwan University Library to make items accessible online and take any necessary steps to preserve them.