p75 neurotrophin receptor-mediated metabolic regulation in glioblastoma cells
Abstract
The most common and deadly primary brain cancer, glioblastoma (GBM), spreads easily throughout the brain and is resistant to standard treatments. Interaction between the cellular protein, p75 neurotrophin receptor (p75NTR), and its binding partner, PDLIM1, plays an important role in mediating cell motility. Preliminary data showed that p75NTR expression in invasive tumor cells accompanies a shift in cellular metabolism from glucose consumption (glycolysis) to glutamine (glutaminolysis). This study investigated the role of the p75NTR-PDLIM1 signaling axis in cellular metabolism and therapeutic resistance.
Human U87 GBM cells that expressed p75NTR (i.e. invasive), or expressed p75NTR proteins that were crippled for their ability to bind PDLIM1 were cultured under glucose- or glutamine-deficient conditions and assessed for their effects on cell survival and metabolic activity. Pharmacologically available metabolic inhibitors (BPTES, a glutaminolysis inhibitor, and DCA, a glycolysis inhibitor) were also assessed for their effects in these cell lines. Both types of p75NTR-mutant cell lines showed decreased mitochondrial activity in glucose-deficient conditions, compared to invasive cells, which showed decreased mitochondrial activity in glutamine-deficient conditions. Furthermore, p75NTR-mutant cell lines showed decreased mitochondrial activity when treated with DCA, whereas invasive cells showed decreased mitochondrial activity when treated with BPTES.
These data suggest that p75NTR-PDLIM1 signaling axis is involved in switching cellular metabolism from glycolysis to glutaminolysis in invasive U87 cells. Future treatments that target this metabolic shift may improve outcomes for patients. Further research is needed to investigate the impact of nutrient-starvation and treatment conditions on cell viability and in patient-derived brain tumor initiating cells.
* Indicates faculty mentor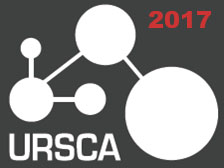 Section
Presentation Abstracts
License
Authors retain any and all existing copyright to works contributed to these proceedings.
By submitting work to the URSCA Proceedings, contributors grant non-exclusive rights to MacEwan University and MacEwan University Library to make items accessible online and take any necessary steps to preserve them.