Current Issue
Vol. 7 No. 1 (2017): Synthesis: Uniting Health, Nutrition, and Earth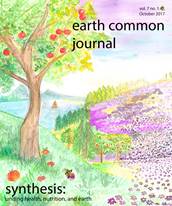 Earth Common Journal: Synthesis--Uniting Health, Nutrition, and Earth, Vol. 7(1) 2017 was published November 20, 2017.
The theme of this issue focuses on how we synthesize our environment, health, and social aspects in our daily lives, in relation to the areas of sustainability, climate change, and conservation. 
Cover design:  Iris Rohr, student completing her Masters in Communication, Royal Roads University.
View All Issues