Edmonton Hiphop Kulture: Techniques of self and cultural sustainability
Keywords:
Youth Development, Culture, Cultural Sustainability, HipHop, Music, Music Education, Hiphop kulture, Sustainability
Abstract
The word culture is rich with complex meanings and despite its use in common speech little is known about it and even less about the practices that contribute to 'its' continued existence, what might be called cultural sustainability. Edmonton Hiphop Kulture:Techniques of Self and Cultural Sustainability documents the role of techniques of self, defined as the daily practices an individual uses to transform his or her body, soul, thought and conduct of being (Foucault, 1988, p. 18), in the development and maintenance of Hiphop Kulture in Edmonton, Alberta. Using a Critical Constructivist methodology, the researchers document the weekly creation of Hiphop Kulture knowledge at Cipher5, a knowledge circle organized by Hip Hop specialists Andre Hamilton, Don Welsh, and MacEwan University professor Dr. Michael B. MacDonald.  With Michel Foucault's (1988) theory in mind that culture is a form of administration built by techniques of production, signification, domination and self (Kendall & Wickham, 1999, pp. 3-54), this paper documents the researchers' exploration of techniques of self in Hiphop Kulture. The researchers theorize that these techniques, or cultural practices, include self-expression, belonging, and identity development and that these three techniques encourage the sustainability of Edmonton Hiphop Kulture. Research methods include participant observation at weekly Cipher5 meetings, autoethnography, interviews with Cipher5 members, and a literature review including a critical hermeneutic analysis of Hiphop literature.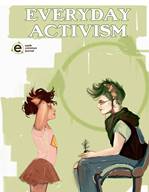 Downloads
How to Cite
Pearson, D. H. P., & Yazdanmehr, R. (2014). Edmonton Hiphop Kulture: Techniques of self and cultural sustainability. Earth Common Journal, 4(1). https://doi.org/10.31542/j.ecj.167