The Right and the Good: Communicating Environmental Issues
Keywords:
Environmental Communications, Environmental Decisions, Degrowth, Medical Ecology, Limits to Growth, Climate Change, Sustainability, Environmental History, Enforcing, Global Warming
Abstract
What we see is partially dependent on what we are shown. As communicators, we have a duty to inform and educate and lead. As environmental communicators we have the privilege of explaining how the various parts of our natural world work, individually, in unison, and in relationship to people. By examining two specific areas of growing global concerns, this paper provides an analytic tool and starts a discussion as to what should be guiding decisions concerning major environmental questions. The first growing global concern discussed is tailings ponds in Northern Alberta's oil sands. The second is the large bodies of air pollution in Asia. In both cases, (Good) short term decisions that benefit a few have led to large environmental concerns. Should humanity be worried about our future? Could (Right) long-term, sustainable, and inclusive decisions lead to more manageable environmental challenges? To be a communicator in the real world it is important to know and differentiate between the Good and the Right. Good and Right communications in environmental issues support daily or frequent acts concerning any or all of three critical areas: sustainability, conservation, and climate change. Questions are addressed. Where are people now with respect to environment, how did we get here, and what are the pros and cons of changing from Good to Right solutions? By looking at one individual's choice, readers see that Good and Right decisions do not have to be mutually exclusive.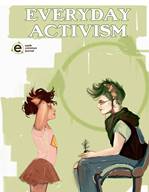 Downloads
How to Cite
McEwen, G. E. (2014). The Right and the Good: Communicating Environmental Issues. Earth Common Journal, 4(1). https://doi.org/10.31542/j.ecj.180