From "UkrainEUkraine" to "F**k the EU": Europe in the Public Spheres of Ukraine, Russia and Poland during EuroMaidan
Roman Horbyk

Södertörn University
Abstract
The place of Europe in post-Cold War national mythologies of different countries varies widely. In three arguably most dramatic examples, Poland rethought itself as "the somehow decentered heart of Catholic Europe" (Dayan & Katz, 1994, p. 166), while Russia gave reasons to conclude it "leaves the West" (Trenin, 2006, p. 87) and Ukraine stuck with its view of Europe as a normative example (Orlova, 2010, p. 26). To what extent does this remain true if one is to look empirically at the discourses that currently inhabit news media? This paper points out, on the example of the public discourses around Euromaidan, to how narratives of Europe are instrumentalized in political discussions in the three countries that followed very different paths since the collapse of the communist bloc. The presentation includes results of qualitative analysis based on an open coding approach; the focus rests on the most prestigious news outlets (Rzeczpospolita, Gazeta wyborcza; Izvestia, Kommersant; Dzerkalo tyzhnia, Korrespondent) but also includes important online blog platforms.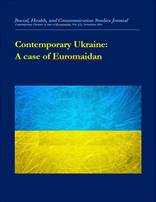 Keywords
Europe, public sphere, Poland, Russia, Ukraine
This work is licensed under a Creative Commons Attribution-NonCommercial-ShareAlike 4.0 International License.