The Ideology of the Euromaidan
Dr. Serhiy Kvit

National University of Kyiv-Mohyla University
Abstract
The revolutionary events known as the Euromaidan fundamentally restructured Ukrainian political life and advanced the culture of politics. As with the Orange Revolution, the roots of the Euromaidan can be found in its idealism: the Ukrainian people's desire to create a state wherein the ideals associated with freedom, in their broadest sense, are respected. The dedication to ideals was more than political rhetoric; it was almost religious. This level of dedication helps explain the powerful motivation of those who took to the streets in mass protest. This paper examines the important differences between the Maidan of 2013-2014 (the Euromaidan) and the Maidan of 2004 (the Orange Revolution). A description and explanation of the stages of revolution in relation to the Euromaidan are provided, followed by a discussion of ideological consensus between political parties. The historical basis of the Maidan symbols are also examined, with further deliberation on how these symbols were used.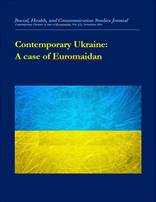 Keywords
ideology, Euromaidan, Orange Revolution, Ukraine, symbols
This work is licensed under a Creative Commons Attribution-NonCommercial-ShareAlike 4.0 International License.