Rapid Response Research in Ukrainian Studies
Dr. Roman Petryshyn, Dr. Olenka Bilash

MacEwan University
Abstract
In this paper we discuss a rapid response project that brought together action researchers from two countries and several universities to provide academic commentary on events emerging during Ukraine's 2014 Euromaidan protest demonstrations. This is a case study of real time engagement over a six-month period. It identifies the results, the complex global and local infrastructure that enabled project exploration to take place and explains its success. Outcomes provide evidence that supports Roger's (1995) contention that globalization of universities has created a system with a capacity for both top-down centralization and bottom-up decentralization as well as Beerkens' (2008) notion of isomorphism or local reinvention. This combination should be understood and utilized in action research projects. Supporting Morley's (2013) claim, analysis of the underlying social context demonstrates that when bottom up local and top down global factors are engaged, maximum results are achieved. This paper may be of particular interest to faculty members who have strong ties to local minority discourse communities or those studying civil movements or unrest and wish to use Rapid Response Research (RRR) methods.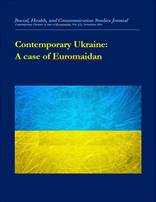 Keywords
ideology, Euromaidan, Orange Revolution, Ukraine, symbols
This work is licensed under a Creative Commons Attribution-NonCommercial-ShareAlike 4.0 International License.