'SEEDS' of 'Good Lessons' through 'Many a Drop'-- Media Initiation in Environmental Education: An Indian Model of Environmental Pedagogy
Keywords:
communication, education, environmental studies
Abstract
Environmental communication is now an emerging and a significant curriculum from schools to research centers. The effective and efficient environmental communication occurs when learners interact with their surrounding environment/ecology in which they live and reciprocate for sustainable protection and restoration of it. Developing countries in Asia and Africa are now setting up new role models and practices in curricula of environmental communication. The traditional theory based environmental communication curriculum of the last century is now actively investigated and restructured through community based learning, affirmative actions, and student centered participatory curriculum. Kerala, a southern State in India, serves as an exemplar of this new eco-venture.  Through case studies like, Nalla Paadam (Good Lesson), Palathulli Project (Many a Drop Project) by the Malayalam language daily 'Malayala Manoram', and SEED project by another Malayalam daily 'Mathrubhumi', this paper analyses the innovative curriculum practices in the state of Kerala in India.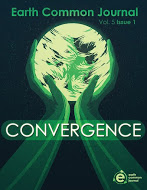 Downloads
How to Cite
Kalorth, N., & Sreekumar, R. (2015). 'SEEDS' of 'Good Lessons' through 'Many a Drop'-- Media Initiation in Environmental Education: An Indian Model of Environmental Pedagogy. Earth Common Journal, 5(1), 1–14. https://doi.org/10.31542/j.ecj.312