The Pursuit of Mathematical Truths
A Rich and Meaningful Aesthetic Experience of Inquiry as an End in Itself
Abstract
Given a Deweyan philosophy of mathematics, education, and of the nature of experience, the pursuit of mathematical truths can be classified as rich and meaningful aesthetic experiences that are ends in themselves. My argument is that mathematical experiences of inquiry can have a meaningful impact on an individual that is of similar effect on an individual as a work of art, such as a painting, or a novel, or a piece of music. The nature of mathematical inquiry is to expand an individual's conscious experience of themselves, their relation to other people, and their relation to the world at large.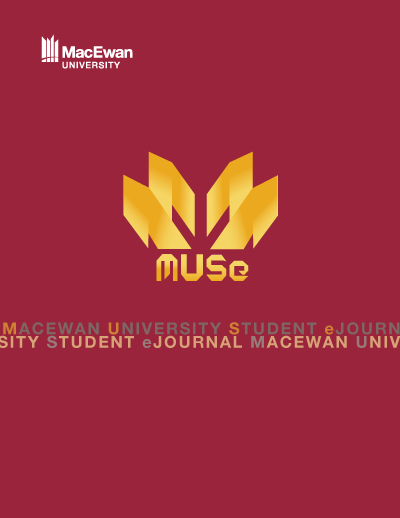 Downloads
How to Cite
Ulliac, K. (2020). The Pursuit of Mathematical Truths: A Rich and Meaningful Aesthetic Experience of Inquiry as an End in Itself. MacEwan University Student EJournal, 4(1). https://doi.org/10.31542/muse.v4i1.1218
Section
Arts and Sciences - Humanities
License
By publishing works in MUSe, authors and creators retain copyright under a Creative Commons Attribution NonCommercial (CC BY-NC) license, which allows others to share these works for non-commercial purposes as long as credit is given. The MUSe Editorial Board reserves the right to make copy-editing changes to works prior to publication to ensure they conform to the publication's style and quality standards. The Editorial Board also reserves the right to archive published submissions in MacEwan University's institutional repository, RO@M.