Attracting University-educated Job Seekers
Challenges and Recommendations for the Auto Sales Industry
Kyle Thomson

MacEwan University

Nicole Block

Camille Labrie

Michaela Pichert

Daniel Zahr
Abstract
While a strong demand for university-educated employees exists within the auto sales industry, few graduates give serious consideration to car dealerships as career opportunities. Lexus of Edmonton, a leading luxury car dealership, presented our team with this concern, prompting a three-month marketing research project. This report examines the factors which influence university-educated job seekers' decisions when searching for employment, and how Lexus of Edmonton can tailor their recruitment strategies to target graduates. Our examination followed a three-phase research design involving a review of 25 academic articles, a qualitative analysis of five in-depth interviews, and a quantitative analysis of 101 questionnaire responses.
In summary, we found that school involvement, internships, and online platforms were effective means of attracting university graduates. We identified business-majors as the audience most interested in a career with Lexus of Edmonton. We also found that corporate social responsibility and organizational culture were major concerns for graduates, with some metrics being considered as highly as salary and compensation. Based on these findings, our team recommends that Lexus of Edmonton expand their ongoing involvement with local universities, leverage their online presence to network with students, and tailor its communications to reflect their commitment to employee wellbeing. Drawing on this report as a case study in recruitment strategies, we hope that other employers and universities may optimize their own processes to better match graduates to career opportunities.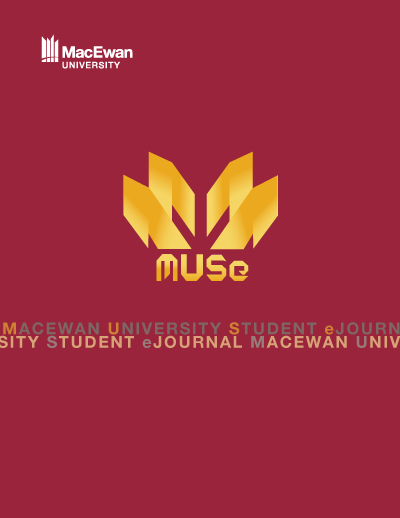 How to Cite
Thomson, K., Block, N., Labrie, C., Pichert, M., & Zahr, D. (2020). Attracting University-educated Job Seekers: Challenges and Recommendations for the Auto Sales Industry. MacEwan University Student EJournal, 4(1). https://doi.org/10.31542/muse.v4i1.1261
Copyright (c) 2020 Kyle Thomson, Nicole Block, Camille Labrie, Michaela Pichert, Daniel Zahr
This work is licensed under a Creative Commons Attribution-NonCommercial 4.0 International License.
By publishing works in MUSe, authors and creators retain copyright under a Creative Commons Attribution NonCommercial (CC BY-NC) license, which allows others to share these works for non-commercial purposes as long as credit is given. The MUSe Editorial Board reserves the right to make copy-editing changes to works prior to publication to ensure they conform to the publication's style and quality standards. The Editorial Board also reserves the right to archive published submissions in MacEwan University's institutional repository, RO@M.