The identity of a new profession
Examining the aegis of Traditional Chinese Medicine
Abstract
In Canada, there is a growing interest in regulating the practices of acupuncture and Chinese herbology under the banner of 'Traditional Chinese Medicine' (TCM). However, the origins and definition of TCM are unclear and therefore disputed. While TCM is often used as an umbrella term to represent Chinese medical traditions that span millennia, numerous academics consider TCM to be a modern construct that has departed from the foundational roots of Chinese medicine. To better understand TCM and its implications for the profession, our study investigates: 1) historical precedents leading up to the formal creation of TCM; 2) characteristics and defining features of TCM; and 3) how this relates to education, practice and regulation of the profession in Canada. A mixed-methods study design was employed. Semi-structured interviews were conducted to explore perceptions of individuals who contributed to mediums that discussed the formation of TCM or traditions that exist outside of TCM. In addition, an anonymous web-based survey was sent to TCM-related professional organizations, who were asked to distribute the survey to their members to capture the views of persons practicing within TCM-related health professions in Canada. Due to a lack of participation from the organizations, no survey data was collected. Interviews revealed that TCM is a product of the standardization and simplification of Chinese medicine during the 1950's and 60's in China to meet healthcare needs at the time. Currently in Canada, there appears to be a lack of awareness that the establishment of TCM is not a comprehensive representation of Chinese medical traditions, and that many aspects of it may not be suited to the healthcare landscape of modern-day Canada. There is a need for more discussion surrounding the identity of this new profession.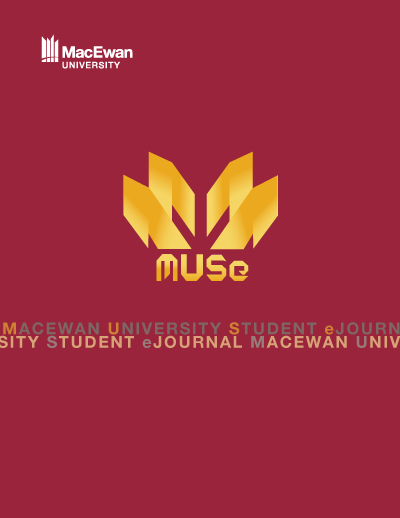 Downloads
How to Cite
Le, B., & Tellier, D. (2020). The identity of a new profession: Examining the aegis of Traditional Chinese Medicine . MacEwan University Student EJournal, 4(1). https://doi.org/10.31542/muse.v4i1.1864
Section
Health and Community Studies
License
By publishing works in MUSe, authors and creators retain copyright under a Creative Commons Attribution NonCommercial (CC BY-NC) license, which allows others to share these works for non-commercial purposes as long as credit is given. The MUSe Editorial Board reserves the right to make copy-editing changes to works prior to publication to ensure they conform to the publication's style and quality standards. The Editorial Board also reserves the right to archive published submissions in MacEwan University's institutional repository, RO@M.