Flatland
Abstract
Flatland is a project of VCDE233 TYPOGRAPHY II and VCDI223 DESIGN AND PRE-PRESS PRODUCTION, both courses in the Design Studies diploma program at MacEwan University.
Students were asked to translate an assigned section of the Victorian novella, Flatland: A Romance of Many Dimensions by Edwin A. Abbott (1884), into a two-page layout that treats the text in a way that is visually appealing, readable, and appropriate to the content. They were encouraged to challenge conventions by exploring alternative grids, objective and expressive type, and text and image relationships.
VCDE233 Typography II (Constanza Pacher) and VCDI223 Design and Pre-Press Production (Jess Dupuis)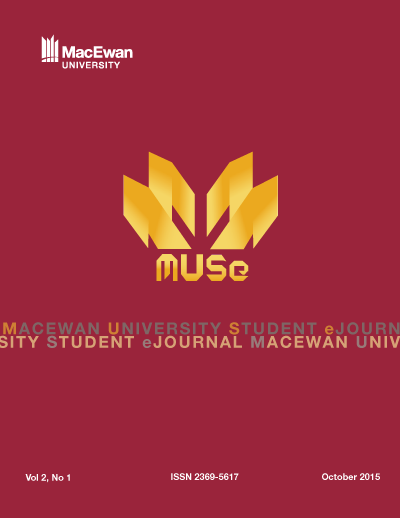 Downloads
How to Cite
Pollon, C. S., Carey, C., Champagne, T. M., Dirk, K. M., Dyck, J. A., Hamel-Carnduff, D. T., Huizinga, R. L., Johnson, S. R., McElhatton, R. M. D., Pender, S. L., Penner, G. P., Qi, C., Rude, J. A., Schmidt, J. K., Smit, P. D., Wedman, A. T., Wellborn, M. D., Wood, R. M., Yoder, A. N., & Eastwood, M. (2015). Flatland. MacEwan University Student EJournal, 2(1). https://doi.org/10.31542/j.muse.207
Section
Fine Arts and Communications
License
By publishing works in MUSe, authors and creators retain copyright under a Creative Commons Attribution NonCommercial (CC BY-NC) license, which allows others to share these works for non-commercial purposes as long as credit is given. The MUSe Editorial Board reserves the right to make copy-editing changes to works prior to publication to ensure they conform to the publication's style and quality standards. The Editorial Board also reserves the right to archive published submissions in MacEwan University's institutional repository, RO@M.