Space, Time, Stillness, and Work-Life Balance
Abstract
Contemporary society is faced with the constancy of capitalism and the burden of always needing to feel and appear productive. However, this state of mind can be harmful to an individual's well-being, and it is crucial to find strategies to manage the chaos. This visual research project discusses how humans move through space and time, and the implications capitalism has on that movement. It begins with a literature review that discusses previous studies and ideas about stillness and work-life balance. Next, the visual research consists of six images that portray moments throughout the day of a university student where it is possible to find stillness. Lastly, conclusions are made, and the importance of accomplishing work-life balance and stillness within contemporary society is presented as a crucial part of enjoyable existence.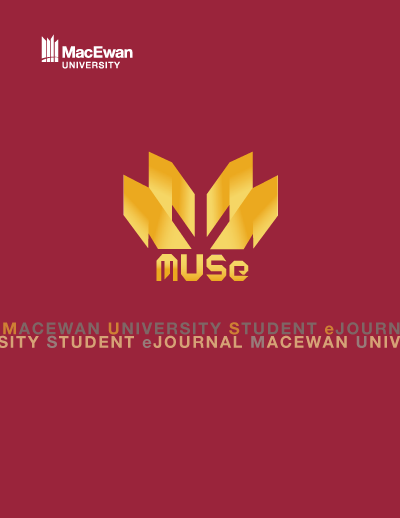 Downloads
How to Cite
Kitchen, B. (2022). Space, Time, Stillness, and Work-Life Balance. MacEwan University Student EJournal, 6(1). https://doi.org/10.31542/muse.v6i1.2271
Section
Fine Arts and Communications
License
Copyright (c) 2022 Breanna Kitchen
This work is licensed under a Creative Commons Attribution-NonCommercial 4.0 International License.
By publishing works in MUSe, authors and creators retain copyright under a Creative Commons Attribution NonCommercial (CC BY-NC) license, which allows others to share these works for non-commercial purposes as long as credit is given. The MUSe Editorial Board reserves the right to make copy-editing changes to works prior to publication to ensure they conform to the publication's style and quality standards. The Editorial Board also reserves the right to archive published submissions in MacEwan University's institutional repository, RO@M.