Ecology and natural history of the Caribbean reef squid Sepiotheuthis sepioidea (Phylum Mollusca, Class Cephalopoda)
Abstract
Cephalopod molluscs evolved from ancient cephalopods found during the Cambrian period around 550 million years ago. The Caribbean reef squid (Sepiotheuthis sepioidea) is a small species of cephalopod, up to 30cm in length, found in the tropical and subtropical waters of the western Atlantic Ocean. Throughout their lives these squid can be found in various places in the water column and on the reef. Aside from being a predator, the Caribbean reef squid is also prey for many species of fish as well as humans. Global warming and potential fishing threats are altering the reef squid's habitat.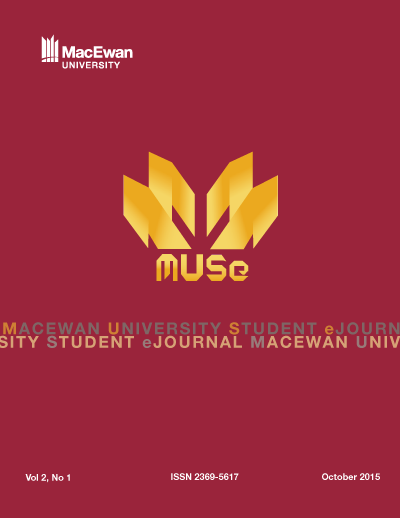 Downloads
How to Cite
Ghadially, M. (2015). Ecology and natural history of the Caribbean reef squid Sepiotheuthis sepioidea (Phylum Mollusca, Class Cephalopoda). MacEwan University Student EJournal, 2(1). https://doi.org/10.31542/j.muse.277
Section
Arts and Sciences - Science
License
By publishing works in MUSe, authors and creators retain copyright under a Creative Commons Attribution NonCommercial (CC BY-NC) license, which allows others to share these works for non-commercial purposes as long as credit is given. The MUSe Editorial Board reserves the right to make copy-editing changes to works prior to publication to ensure they conform to the publication's style and quality standards. The Editorial Board also reserves the right to archive published submissions in MacEwan University's institutional repository, RO@M.