Living in the Moment: The Everyday in Woolf's Mrs. Dalloway and Cunningham's The Hours
Abstract
In this essay the importance and effect of the everyday moment in Virginia Woolf's Mrs. Dalloway and Michael Cunningham's The Hours is discussed. Whether the everyday moment is shown as baking a cake, taking a sip of coffee or making hats, each moment has its own significant impact on the characters. The impact arouses both powerful feelings and illuminating possibilities in the lives of the characters, thus demonstrating that the ordinary moments in life often hold the greatest significance.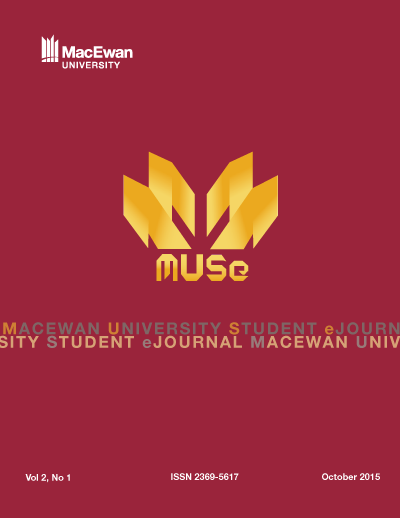 Downloads
How to Cite
Bushell, J. (2015). Living in the Moment: The Everyday in Woolf's Mrs. Dalloway and Cunningham's The Hours. MacEwan University Student EJournal, 2(1). https://doi.org/10.31542/j.muse.288
Section
Arts and Sciences - Humanities
License
By publishing works in MUSe, authors and creators retain copyright under a Creative Commons Attribution NonCommercial (CC BY-NC) license, which allows others to share these works for non-commercial purposes as long as credit is given. The MUSe Editorial Board reserves the right to make copy-editing changes to works prior to publication to ensure they conform to the publication's style and quality standards. The Editorial Board also reserves the right to archive published submissions in MacEwan University's institutional repository, RO@M.