Reality is Just a Dream: The Significance of the Uncanny in Christopher Nolan's Inception
Abstract
In this research essay, the author argues a psychoanalytic interpretation of Christopher Nolan's film Inception: that it is impossible to know the real world.  Furthermore, that uncanny experiences serve as reminder of the real world, but that we need to forget the real world and accept our perceived reality in order to continue functioning.  The train, the open window, Mal and even the children are presented as elements of the uncanny.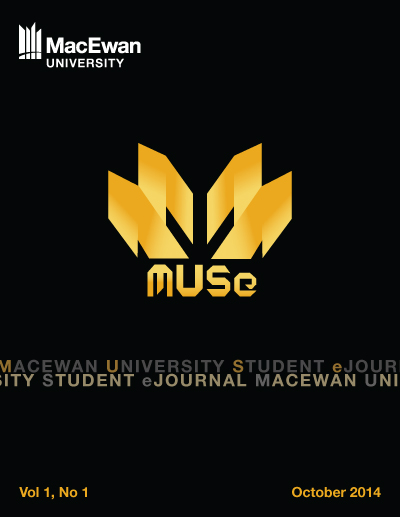 How to Cite
Vyskocil, K. (2014). Reality is Just a Dream: The Significance of the Uncanny in Christopher Nolan's Inception. MacEwan University Student EJournal, 1(1). https://doi.org/10.31542/j.muse.114
Section
Arts and Sciences - Humanities
By publishing works in MUSe, authors retain copyright under a CC BY-NC license, which allows others to share these works for non-commercial purposes as long as credit is given to the work's original author(s). The MUSe Editorial Board reserves the right to make copy-editing changes to works prior to publication to ensure they conform to the publication's style and quality standards. The Editorial Board also reserves the right to archive published submissions in MacEwan University's institutional repository, RO@M.