The Analogous Writer: Literary Evolution in Modernist Virginia Woolf
Andrew Hall

Macewan University
Abstract
Some of Virginia Woolf's writing is analytical of the literary world, including its history and processes. Woolf's essay "Modern Fiction" and short story "Solid Objects" analyze and criticize modern writing and can be seen as doing so within similar contexts, albeit in different modes. The main character of "Solid Objects" is arguably representative of Woolf's feelings, made clear in "Modern Fiction" of where modern writing is in the midst of going.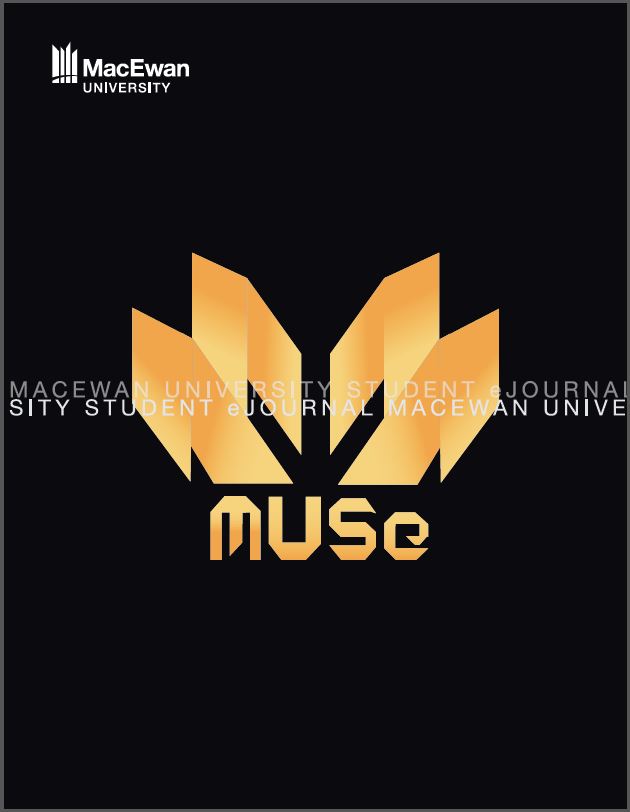 How to Cite
Hall, A. (2016). The Analogous Writer: Literary Evolution in Modernist Virginia Woolf. MacEwan University Student EJournal, 3(1). https://doi.org/10.31542/j.muse.305
Section
Arts and Sciences - Humanities
By publishing works in MUSe, authors retain copyright over their works and may publish or archive these works elsewhere as long as an acknowledgement of initial publication in MUSe is given. Note: The scholarly community rarely condones attempts to publish the same work in multiple journals. Before submitting any work to MUSe, please ensure that MUSe is the most appropriate publishing venue for that work (now or in the future).
The MUSe Editorial Board reserves the right to make copy-editing changes to works prior to publication to ensure they conform to the publication's style and quality standards.The MUSe Editorial Board also reserves the right to archive published submissions in MacEwan University's institutional repository, Research Online at MacEwan (http://roam.macewan.ca).