Fighting the Fear: Everyday Terror in the American Short Story Collection after 9/11 A Study of Jennifer Egan's A Visit from the Goon Squad and Elizabeth Strout's Olive Kitteridge
Rae-Lee Kruger

MacEwan University
Abstract
Jennifer Egan's A Visit from the Goon Squad and Elizabeth Strout's Olive Kitteridge represent the emphatic force that can be created within a short story collection and each contain at their core what has become a fundamental aspect of American literature since September 2001: terror. In A Visit from the Goon Squad and Olive Kitteridge, characters feel and attempt to cope with terror in their everyday lives. Both Egan and Strout contextualize individual terror against the broader national and cultural form felt by the United States after the events of 9/11. The presence of the void left by the Twin Towers is a potent symbol of terror within each collection, paralleling the characters' experiences with that of post-9/11 America while highlighting the existence of everyday terror and providing a lens for character self-reflection. This essay focusses on two categories of terror that figure into both collections, terror of the unknown and terror of being alone, and how strategies employed by Egan's and Strout's characters to cope with this terror correspond to the American public response to the wider terror instilled by 9/11.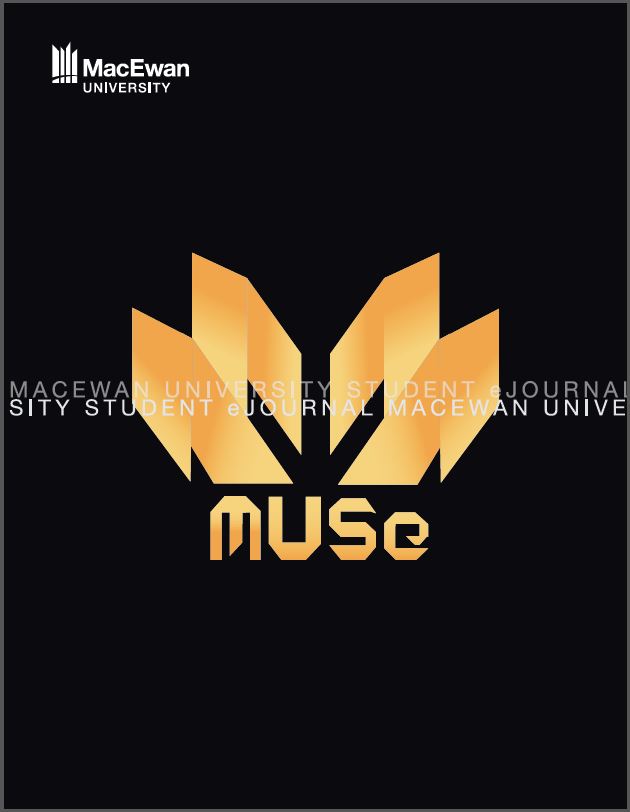 How to Cite
Kruger, R.-L. (2016). Fighting the Fear: Everyday Terror in the American Short Story Collection after 9/11 A Study of Jennifer Egan's A Visit from the Goon Squad and Elizabeth Strout's Olive Kitteridge. MacEwan University Student EJournal, 3(1). https://doi.org/10.31542/j.muse.393
Section
Arts and Sciences - Humanities
By publishing works in MUSe, authors retain copyright over their works and may publish or archive these works elsewhere as long as an acknowledgement of initial publication in MUSe is given. Note: The scholarly community rarely condones attempts to publish the same work in multiple journals. Before submitting any work to MUSe, please ensure that MUSe is the most appropriate publishing venue for that work (now or in the future).
The MUSe Editorial Board reserves the right to make copy-editing changes to works prior to publication to ensure they conform to the publication's style and quality standards.The MUSe Editorial Board also reserves the right to archive published submissions in MacEwan University's institutional repository, Research Online at MacEwan (http://roam.macewan.ca).